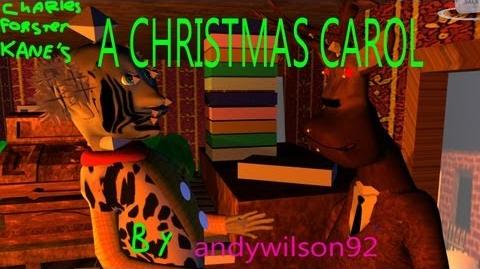 A Christmas Carol 
is a video crated by andywilson92. It was uploaded on December 24, 2012.
One Christmas night in the land of Tyksrr, Mr. Scrooge throws Tiny Tim out of his house, and Tiny Tim hits an iron fence. Mr. Scrooge tells Tiny Tim to get out of his house, for there will be no Christmas for him this year.
Back in his house, Mr. Scrooge spins around, and says that he hates Christmas, preferring to play his video-games and to count his money. Outside, Tiny Tim bleeds and freezes to death.
Mr. Scrooge's entertainment was interrupted by an explosion. Mantra Claus walks out of the chimney and throws Mr. Scrooge's computer out of the window as he roars, to "show him the error of his ways". Convinced by Mantra Claus' actions, Mr. Scrooge tells Mantra Claus that they need to save Christmas.
Mantra Claus removes a Christmas tree from the town square, and he and Mr. Scrooge carry it up the snow-covered Snospis Hill (which is in front of the Snospis House). They slide down the hill and land into a red trailer, where they join Maggie and the "Eskimos" to celebrate Christmas.
The video is a parody of "A Christmas Carol" by Charles Dickens. However, the original story differs from the video in that Mr. Scrooge gets visited by three ghosts and becomes a kinder person from his encounters, and Tiny Tim survives.
Tyksrr's name is pronounced as "TEE-yek-ser".
Mr. Scrooge's clothes resemble those worn by Woody, the toy cowboy from the "Toy Story" film franchise.
According to a comment by andywilson92, the video-game that Mr. Scrooge is playing is "Call of Duty: Black Ops III", a military science fiction first-person shooter game, however, that game didn't exist until 2015.
Community content is available under
CC-BY-SA
unless otherwise noted.