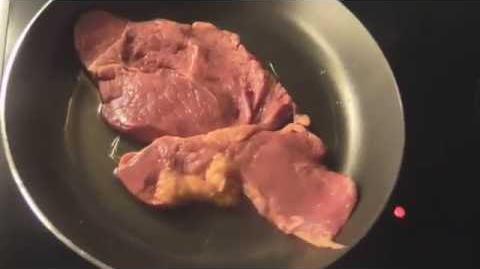 Comfy Cooking Episode 1
is a video by Andywilson92, uploaded to the channel
Andywilson Gaming!
. It was uploaded to YouTube on 11th October 2016.
Andywilson92 laughs loudly, and welcome the viewer to Comfy Cooking. He then announces that he is cooking a steak, and pours some oil in the frying pan.
He sets the setting to 6, to get the steak "nice and cooked". He hits the steak a few times, and says that if it is not cooked, it will not be edible, and he says the steaks need to be brown and delicious. He touches the steak with some scissors, and stabs it several times, before pouring some beer into it. He looks at the clock, and says that it is "quarter to one in the morning". He then falls over. After getting up, he empties the contents of the frying pan into the bin. He then uses the frying pan to unstick the steak from the frying pan. He then announces his plans to leave the meal in the bin to let it "ferment".
Andywilson92 says that it is the next day, and presents the steak, which he says is still "fermenting". He places it into the frying pan to let it cook for a while longer. He then smears some butter over the steak, as well as some Bovril.
A message comes up saying that Andywilson92 forgot to press the record button when he was tasting the meal, but adds that it was delicious with ketchup.
He then cleans the pan in the sink by adding some washing up liquid to it and removing the pieces of burnt food with a knife.
Community content is available under
CC-BY-SA
unless otherwise noted.