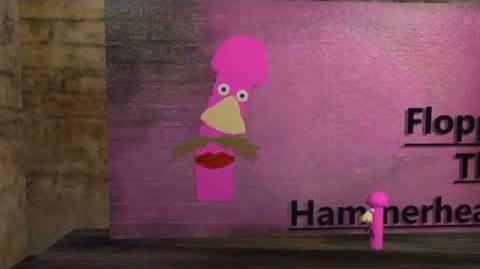 Floppy the Hammerhead 2
is an episode in the
Floppy the Hammerhead
series. It was uploaded to YouTube on 10th August 2014.
The Good Captain is seen laying down on the beach. Floppy greets the children, and welcomes them to the show. Floppy wonders what time it is, and decides to ask Big Floppy, who knows all about the time. Big Floppy points to the number 4. Floppy realises that it is 4 'o' clock in the morning, which is apparently time for church. Floppy then says in today's episode, they will talk about the bible. Floppy then says that they are going to have someone on who knows all about the bible, and this guest turns out to be Jesus. Floppy asks Jesus to say hello. Jesus screams in response. Floppy asks the viewers if they knew that Jesus has been nailed to a cross since 1973. Floppy then tells us that is a long time to be nailed to a cross. Floppy then says that on page 29 of the bible, it talks about brushing your teeth. Floppy asks Jesus to tell all the children at home about his adventures. Jesus shouts at Floppy in response. Floppy then says he has recieved many pictures from children, and shows the viewers a picture drawn by Terry Staplers, age 7, from Birkenhead. He thanks Terry for the picture, and puts it on Floppys Fridge. Floppy then tells the children to have a great day, and reminds them that Floppy will always be right here, inside of you. The video then cuts to the Good Captain, who looks up off the ground at the viewer. A close up of the Good Captain's face is then seen.
Community content is available under
CC-BY-SA
unless otherwise noted.