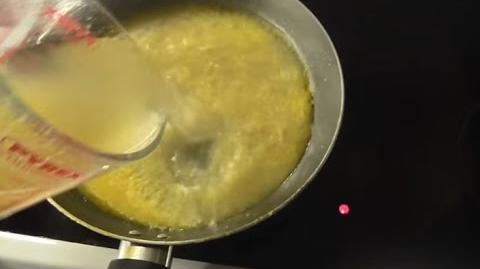 How to Make Doritos Consomme - Comfy Cooking
is a video by Andywilson92, uploaded the the channel
Andywilson Gaming!
. It was uploaded to YouTube on 7th December 2016.
Andywilson92 tells the viewer that consommé is a clear soup, traditionally served with beef or chicken, but he adds that you can make it out of just about anything, including Doritos.
1.Mix about 27kg of Doritos, which Andywilson92 describes as "about one big bag", and mix with 6 gallons of water, and bring it to a boil.
2.Let it steam for 30 minutes, which Andywilson92 compares to making "a Dorito tea".
3.Strain the tea, discarding the soilds, and return the liquid to the pot.
4.Bring it back to a boil.
5.Combine half a teaspoon of gelatine with two cups of water.
6.Place the pot in the freezer until it is frozen solid.
7.Un-mould the Dortio ice by running hot water along the sides of the pot.
8.Place the Dorito ice in a colander lined with two layers of cheesecloth.
9.Put the colander over a bowl, and let it defrost at cool room temperature, which takes about a day.
Andywilson92 then suggests adding shrimp, corn and cilantro.
Community content is available under
CC-BY-SA
unless otherwise noted.