Pumkin World 3 is a video created by andywilson92. It was uploaded to YouTube on 24th June 2013.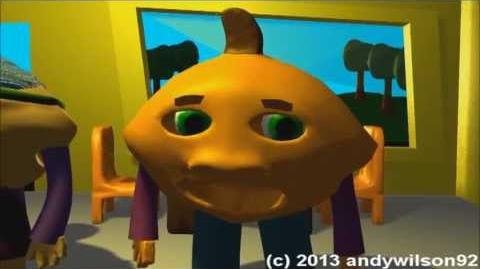 Back in his house, Pumkin lies on the ground with his legs on the sofa. Momma Pumkin and Papa Pumkin arrive to their living room. She asks Pumkin on why is he not at his favorite restaurant. Pumkin replies that he is too sad to go to the restaurant today, and that he will never go back there again.
Momma Pumkin assures him that he should not continue to be sad. She tells him to put on his best hat, because she and Papa Pumkin will follow him to the restaurant. Papa Pumkin agrees and tells him to go there for dinner, and he accepts.
The three Pumkins visit the restaurant, and give orders to the shopkeep at once, causing him to bang his head repeatedly against his counter in frustration.
At 0:16, a Rainbow Dash toy is seen amongst several bottles.
Community content is available under
CC-BY-SA
unless otherwise noted.