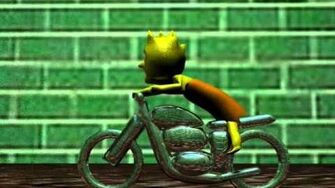 Snospis eht opening
 is the third video of andywilson92's "Snospis Eht" series. It is preceded by 
marge simpsons blog 01
 and is followed by 
Snospis eht short.
. It was uploaded to YouTube on 4th September 2010.
Lisa wakes up naked on her bed, and goes towards her wardrobe to put on her orange dress. She flies up the stairs to ride on her chrome motorcycle, and speeds off a ramp to the streets of her neighborhood.
She later walks out of her dress and sits on a chair next to a table, before she plucks off her right eye and melts. She then flies, without her eyes, towards a cupboard, before playing with a record disc and flying out of her dress with it. The video ends with the title in scrawled black letters against a red background.
The description calls Ned "Ned Snospis", but his actual surname is "Flanders".
Throughout the video, a distorted voice tells Lisa on what she is to do:
Hey hey lisa!
GO GO GO
GO.
GET OUT FROM BED. IT'S TIME FOR SNOW
YOUR ORANGE DRESS IS MISSING PIECE FOR DAY!
GET UP THOSE STAIRS AND OUT OF YOUR WAY!
GET ON YOUR CHROME MOTORCYCLE!
DRIIIIIIVE OUT OF THAT PURPLE DOOR
HEY HEY, GO GO!
(unintelligible dialogue)
GET TO THOSE TABLE
GET TO THOSE TABLE!
FLY AWAY TO SPACE!
SNOSPIS EHT! SNOSPIS EHT! SNOSPIS EHT! SNOSPIS EHT! (ea'ch time more higher-pitched than the previous times)
Community content is available under
CC-BY-SA
unless otherwise noted.